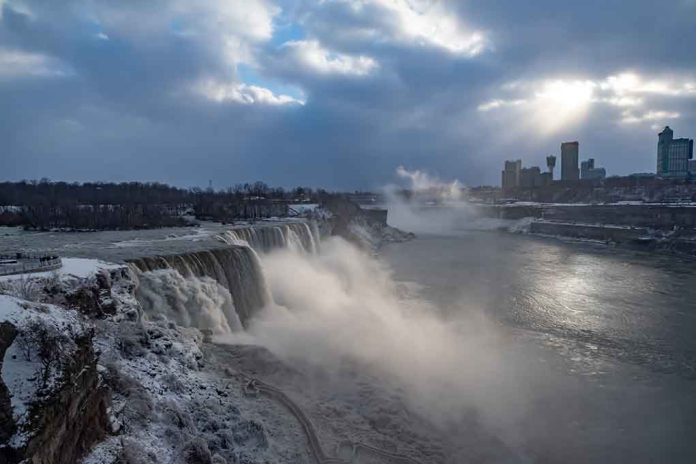 (ModernSurvival.org) – Automotive accidents happen every day across America. From fender benders to multi-car pile-ups, wrecks have become an all too common occurrence in the modern age. Of all the things that can go wrong when one is behind the wheel, winding up in a freezing river on the edge of a massive waterfall seems to be the least likely. Unfortunately, this exact scenario played out above Niagara Falls Wednesday.
New York State Park Police (NYSPP) received a call late in the morning stating a car was stuck in the river leading to the American Falls, one of three waterfalls that make up Niagara Falls. The Power Authority then reduced the levels of water in the river so a rescue could be attempted.
A first responder dangling from a helicopter managed to pry open the door of the submerged vehicle and retrieve the driver. The woman, estimated to be in her 60s, was pronounced dead at the scene. It is unclear if she died before or after being removed from the car.
In an email statement on November 9, NYSPP Captain Christopher Rola stated it appears as though the driver entered the water intentionally. He also confirmed that the cause and manner of death were yet to be determined.
While this incident is tragic, it brings to light the fact that cars do end up submerged underwater (though usually not intentionally). Should one ever find themselves trapped in their vehicle with water rushing in, knowing one trick could mean the difference between escape and murky fate. To see what the trick is, take a look at our article here.
~Here's to Your Survival!
Copyright 2021, ModernSurvival.org