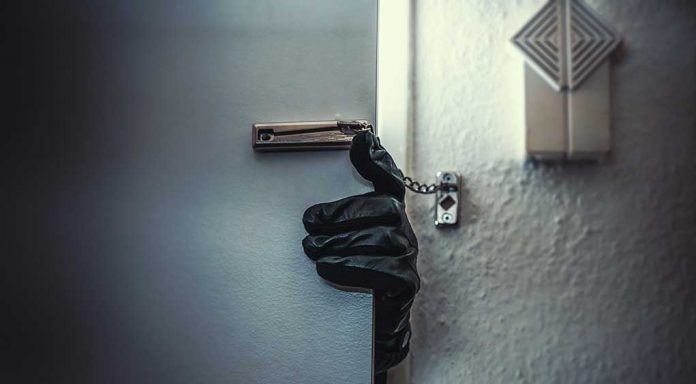 (ModernSurvival.org) – An inexpensive way to prevent burglars from kicking in your door is by?
• Installing a deadbolt
• Installing steel hinges
• Replacing small screws
• Replacing door frame
Answer: Replacing Small Screws. Here's why…
Home invasion is a real concern for many people across the country — with good reason. Considering the fact that a burglary occurs roughly once every 30 seconds in the United States alone, finding ways to make it harder for criminals to break in is a good idea. With a small investment and a little elbow grease, anyone can fortify their home.
Upgrade These
The first, and cheapest, way to reinforce a home begins with the external doors. The majority of home manufacturers use half-inch screws in the strike plate, which will tear out of the frame when pressure is applied. Remove these and replace them with three- or four-inch long screws.
By adding longer screws, the strike plate will be secured to the door frame and the studs beyond that. For added security, a larger strike plate can be purchased that has more holes for additional screws.
Next, repeat this process with the screws in the hinge plates of the door. This will prevent an intruder from kicking the opposite side of the door down, or at the very least make the job a lot harder.
These minor upgrades are extremely simple to install and don't require much of an investment. Anyone with a screwdriver or drill can get these done in as little as five minutes.
While these upgrades can make it harder for an intruder to break into a home, they are only the tip of the proverbial iceberg when it comes to home security. For more tips on how to secure the home and property, check out our article here.
~Here's to Your Survival!
Copyright 2023, ModernSurvival.org