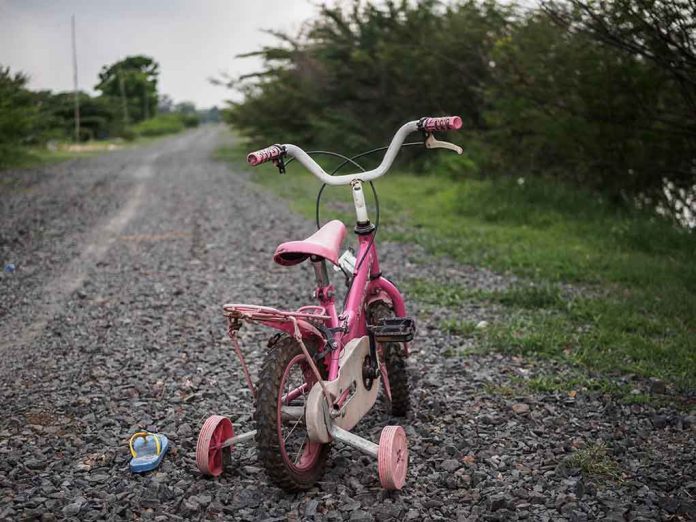 (ModernSurvival.org) – Each year, hundreds of thousands of children go missing in the United States. That is roughly one child every 40 seconds. Thanks to the efforts of local police, one of those children is now reunited with their family.
BREAKING! We're overjoyed that Paislee Shultis, a young girl missing since 2019, has been FOUND SAFE in a secret room under a staircase in Saugerties, New York. https://t.co/WoFciwXZ5U via @nypmetro

— NCMEC (@MissingKids) February 15, 2022
Six-year-old Paislee Shultis is now safe with her older sister after being kidnapped in 2019 when she was only four. After two years, law enforcement in Saugerties, New York, received a tip the little girl was being held in a home nearby.
When officers issued a search warrant, they combed the suspected house for an hour before detective Erik Thiele noticed something out of the ordinary – a blanket sticking out of the steps of a staircase down to the basement.
After removing a few of the wooden steps, officers discovered a pair of little feet belonging to the missing girl. Shultis was being hidden in a small room by one of the kidnappers, her "non-custodial parent" Kimberly Cooper.
Authorities rescued the 6-year-old from her captors, reuniting her with her older sister once paramedics confirmed she was in good health.
Both Cooper and Kirk Shultis Jr, the girl's non-custodial father, face charges including felonies of custodial interference along with endangering the welfare of a child. A third party, Kirk's father, is also facing charges related to the kidnapping.
~Here's to Your Survival!
Copyright 2022, ModernSurvival.org