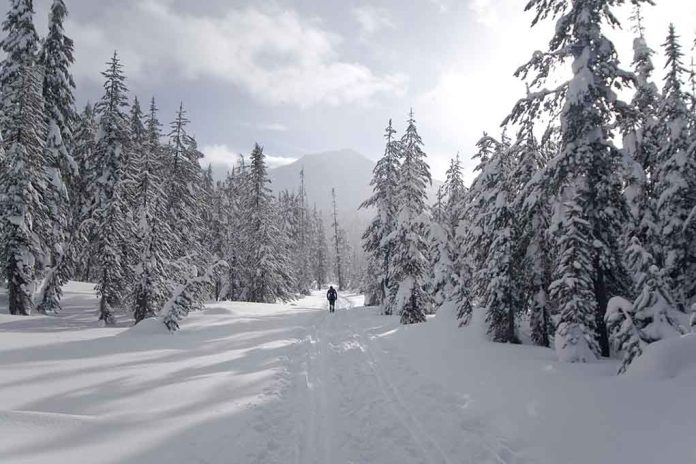 (ModernSurvival.org) – When most people think about going on a camping trip, usually it's during warmer weather, when temperatures are higher than freezing and one can hike and fish in comfort. For the more adventurous, winter camping is a way to get out and enjoy nature despite the biting cold and snow on the ground. For two teenagers, however, their adventure recently became a nightmare.
Two teens rescued from mountain after 'SOS' signal spotted https://t.co/inkySbrI66 pic.twitter.com/nflmudmURT

— New York Post (@nypost) January 4, 2022
The two 19-year-olds left on a winter camping trip to Swastika Mountain (named prior to the Nazi party hijacking the symbol) near Eugene, Oregon, on Christmas day. Their plan was to return on December 29. The duo was reported as missing when they hadn't made it back by New Year's Eve.
With heavy snowfall blanketing the area where the teens had set camp, the Coast Guard took to the sky in helicopters to search. The two young men, whose identities remain unknown, did something incredibly smart, which allowed rescuers to find them quickly: they wrote "SOS" in the snow.
The young men also stayed near their vehicle, rather than attempting to hike out in search of help. According to MH-65 aircraft commander, Lt. Maggie Chapmin, the teenagers did "a lot right" to aid rescuers. She said that hikers and campers should take personal location devices with them, though.
While searching for the missing campers, the Coast Guard helicopter also spotted another pair of hikers in need of rescue.
Thankfully, the boys knew to use SOS as a means to signal rescuers. While this term is well known (and has been in use since 1906), most people don't know what it actually stands for. To see what, if anything, the SOS distress signal is an abbreviation for, take a look at our article covering the subject here.
~Here's to Your Survival!
Copyright 2022, ModernSurvival.org