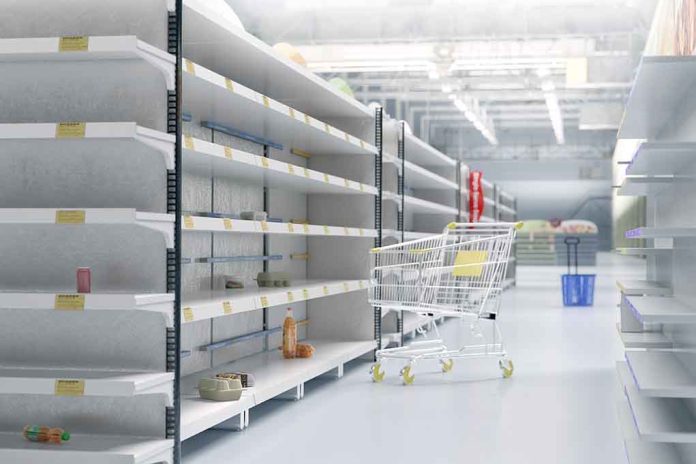 (ModernSurvival.org) – Across the nation, distraught Americans are recording their attempts to purchase groceries and posting the results on Twitter. With barren stores becoming the new normal, people are venting their frustrations online. Pictures of empty shelves are trending, along with a new hashtag that is sure to haunt President Biden.
#BareShelvesBiden is the laughing stock of Planet Earth pic.twitter.com/28j2bDONJe

— Vince Langman (@LangmanVince) January 9, 2022
From average shoppers to reporters, thousands of people flooded Twitter with images of their local grocery stores and then tagged them with #BareShelvesBiden. So many posts came in that the hashtag began trending.
Thanks in part to the labor shortage, the global supply chain is beginning to fail. The price of essential goods, such as food, is skyrocketing as demand quickly outpaces product availability. With more and more people finding themselves unable to get the items they need, a sense of anger and panic is starting to grow.
Between the supply chain crisis and rising inflation, the Biden administration is in hot water. But of course, they seem to be oblivious to the issues plaguing average Americans. For example, White House Chief of Staff, Ron Klain, recently shared an article from the New York Times that claims the supply chain issues are "overhyped" and "unfounded."
For survivalists, the current failure of the supply chain is a scenario that's been discussed in-depth for quite some time. Many saw this coming and prepared ahead of time. Unfortunately, not everyone had the foresight to do so, and they're now paying the price.
~Here's to Your Survival!
Copyright 2022, ModernSurvival.org