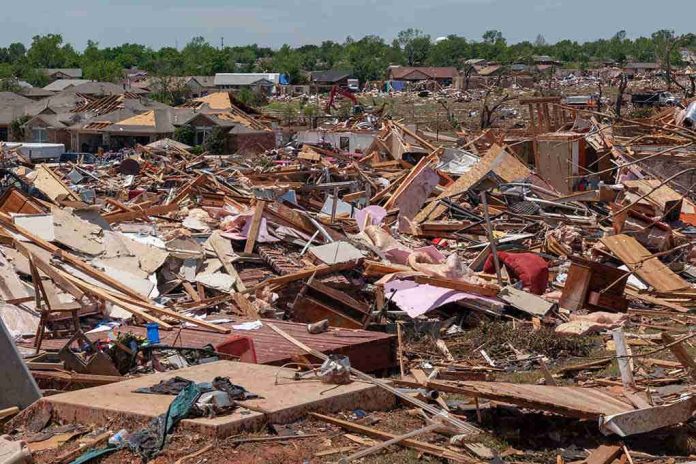 (ModernSurvival.org) – Over the weekend, multiple states were slammed by tornadoes, leaving at least 90 people dead. The trail of carnage left behind by the raging storms spans six states, including Arkansas, Illinois, Kentucky, Missouri, Mississippi, and Tennessee.
Dawson Springs, Ky is 70 miles away from #Mayfield and was also devastated by the #Tornado #WX pic.twitter.com/kBwBxcxURi

— WxChasing- Brandon Clement (@bclemms) December 11, 2021
The victims of these freak storms range from a five-month-old to an 86-year-old. Images of the devastation are circling the internet, showing a truly bleak and heartbreaking landscape.
According to Kentucky's governor, Andy Beshear, at least 105 people are still missing in the Bluegrass state alone. Beshear said the tornadoes destroyed everything along the 227-mile long path they traveled, leaving thousands without homes and tens of thousands without power.
It wasn't just homes that were hit by the natural disaster, either. An Amazon warehouse was destroyed in Illinois, killing at least six people. Eight more lost their lives in a candle factory that was swept away in Kentucky.
While many people believe that tornadoes are rare in the winter months, the path of destruction left late Friday night is proof that these swirling clouds of death can strike at any time. This is precisely why it's so important to know what to do when a tornado is approaching, even when tornado season is over.
For information on what to do when caught in the path of a tornado, take a look at our article here.
~Here's to Your Survival!
Copyright 2021, ModernSurvival.org