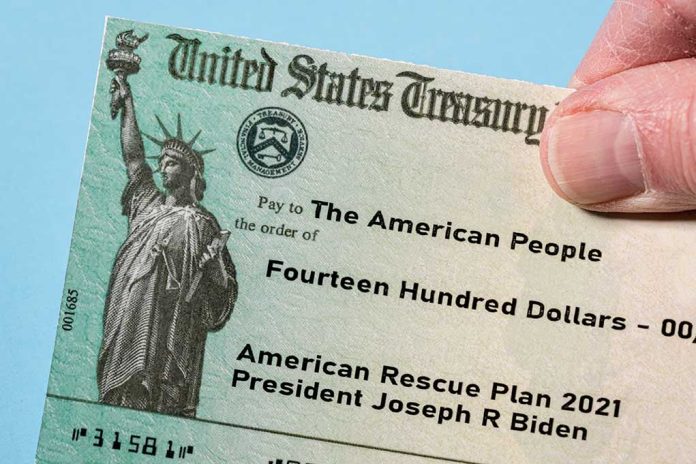 (ModernSurvival.org) – Over the past few years, the government sent Americans billions of dollars in stimulus checks. The Internal Revenue Service (IRS) distributed these checks in three installments: $1200 in April 2020, $600 in December 2020, and the final $1400 payment in March 2021.
Public advocacy groups like change.org have begun grassroots efforts to have these payments continue. So far, there hasn't been much action toward this goal on Capitol Hill.
To make the loss of this income even worse for working families, the expanded Child Tax Credit has also expired. This credit provided an extra $300 monthly for families with children under 17. The IRS still offers the Child Tax Credit deduction, but families with struggling finances will sorely miss the extra income from these monthly checks.
Despite the fact that the federal government has no plans to issue additional stimulus checks, some states are sending out an extra payment in 2023. The federal government provided each state with the financing, but each state government must determine how they will spend it.
Other Benefits That May Help
Families that are still struggling have options from both federal and state programs available to them that can help.
SNAP
The Supplemental Nutrition Assistance Program (SNAP), formerly known as the food stamps program, is funded by the federal government and administered at the state level. The majority of SNAP recipients are families with children. Roughly 30% of those who receive SNAP benefits are households with disabled or older family members (60 years and above). To qualify for SNAP, you must meet the following requirements:
You must be a citizen of the United States or a documented non-citizen
Your gross income must meet or fall below 130% of the poverty line
Non-citizens must meet the following criteria:
Lived in the US for at least 5 years
Be receiving other disability benefits or assistance
Be a child under 18
To apply for SNAP benefits, visit the USDA website and select the state where you live to find specific instructions to apply. This process can be completed online in many areas, but you might have to upload documents to do so.
TANF
The federal Temporary Assistance for Needy Families(TANF) program helps low-income families become self-sufficient. TANF is part of the Department of Health and Human Services (DHHS), but like SNAP, it is administered at a state level. The program offers many services for recipients, including cash benefits.
You must meet the following requirements to qualify for TANF assistance:
You must be a U.S. citizen or documented alien
You must be unemployed or underemployed with a low income
Have a child under the age of 18 or be pregnant
Be under 18 and the head of your household
To apply for TANF benefits, visit the DHHS website and select your state.
Section 8 Housing Vouchers
The Section 8 voucher program helps low-income families, the elderly, and disabled individuals get safe, decent, and sanitary housing. The Department of Housing and Urban Development offers rental assistance through Section 8. Those who receive this benefit can select their own place to live or choose subsidized government housing. Once a selection is made, HUD pays a portion of the monthly rental fees.
Eligibility requirements for Section 8 are as follows:
You must be a US citizen or non-citizen with qualified immigration status
Your family income cannot exceed 50% of the local median income
To determine what the income limits are for your area, visit the HHS website. To apply for Section 8 assistance, go to your local Public Housing Authority.
Copyright 2023, ModernSurvival.org