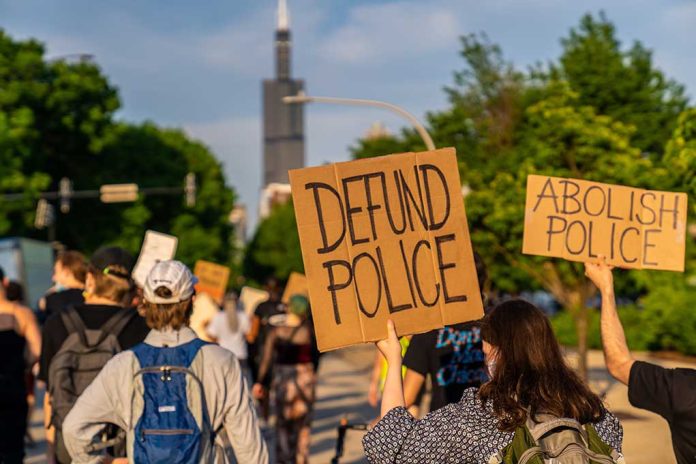 (ModernSurvival.org) – Following the civil unrest that swept the nation in 2020, many Democrat-run cities began pushing efforts to defund the police. Fast-forward to 2022, and now the country is facing record-breaking crime rates, with homicides reaching a 25-year high. While most Americans see the correlation between financially handcuffing law enforcement and murderers running amok, the Left has often stubbornly refused to admit their policies failed. That is, until now.
Call it what it is: Defunding the police had helped lead to the rise in violent crime across America.

Democrats defunded police and made you less safe so they could score political points on Twitter. Think about that for a bit. https://t.co/5wvrmrEaca

— Dan K. Eberhart (@DanKEberhart) January 25, 2022
During a White House press conference on Monday, Fox News reporter Peter Doocy (the same reporter President Biden recently called a "son of a b*****") asked what the Biden administration believes to be the cause of the crime wave crashing over America. White House Press Secretary Jen Psaki finally admitted that "underfunded" police were part of the issue.
According to Psaki, many police departments need additional funding and resources to help drive down crime. She also claims that President Biden is an advocate of funding the police, and is working hard to see the violence toward law enforcement put to an end. She stated that this "should not be a political issue."
As violent crime skyrockets and police officers continue to get gunned down in the streets, one has to wonder what, if anything, the Biden administration is going to do about it. While Psaki says the President is all for funding law enforcement, it remains to be seen if he will put his money where his mouth is.
Do you think the defund police movement has made crime worse in America? Do you believe President Biden will address this issue, and implement ways to reduce the number of homicides in the country? Reply to your email and share your thoughts, we would love to hear from you!
~Here's to Your Survival!
Copyright 2022, ModernSurvival.org