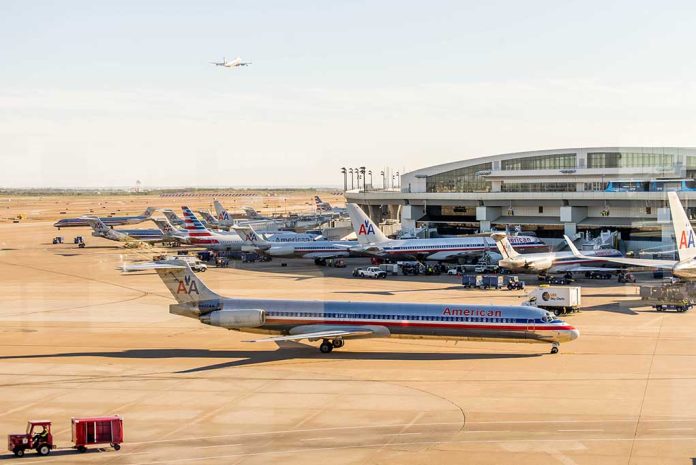 (ModernSurvival.org) – Traveling for the holidays is notoriously stressful. With airports packed full of people, flights being delayed, and the pandemic still looming overhead, it's really no surprise that travel is especially infuriating right now. What happened in Miami International Airport Monday night, however, has left the nation in a state of disbelief.
Meanwhile at Miami International Airport 💀 (vid: @mikemajlak) pic.twitter.com/4Ipc3opedm

— Joel Franco (@OfficialJoelF) December 21, 2021
At roughly 6:30 p.m., law enforcement responded to an unruly passenger who stole the keys to a cart, refusing to let an airport employee leave. As the conflict between responding officers and the disgruntled traveler escalated, an all-out brawl erupted within the airport.
As the video shows, one officer held a passenger in a chokehold, as bystanders began attacking him, presumably to force him to release the hold. After being struck multiple times, the officer drew his weapon to keep the crowd at bay.
Two of the individuals involved with assaulting the officer are in custody. Mayfrer Serranopaca, 30, and Alberto Yanez-Suarez, 32, both face multiple charges related to the incident.
Unfortunately, this is just one of a slew of incidents this year in which passengers have demonstrated bad behavior in an airport or on a plane. Last week, a passenger attacked an attendant and an air marshal on a Delta Air Lines flight from Washington D.C. to Los Angeles, causing the flight to be diverted.
With violent assaults increasing in airports across the nation, one must keep their head on a swivel while attempting to travel. To see how to respond should a fight break out nearby, at an airport or anywhere else, take a look at our article here.
~Here's to Your Survival!
Copyright 2021, ModernSurvival.org