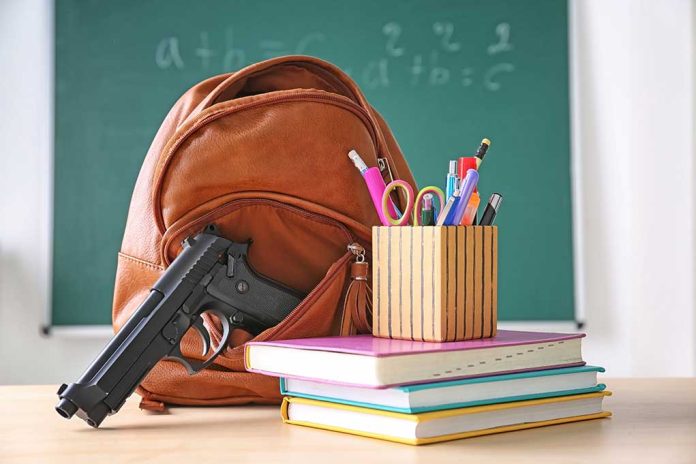 (ModernSurvival.org) – School shootings are becoming an all-too-common issue in the United States and around the world. Recently, Oxford High School in Michigan was targeted by a disgruntled student, leaving four dead and many more injured. The students and faculty didn't just lie down, though. They took action to save themselves.
MICHIGAN HIGH SCHOOL SHOOTING

Video from inside classroom at oxford high school shows brave students refusing to open door for apparent shooter who was identifying himself as a Sheriff's Deputy. #BreakingNews #Michigan #oxfordhighschool #shooting pic.twitter.com/tseOp97ddv

— NY Actions (@NY_ACTIONS) November 30, 2021
When gunshots tore through the air Tuesday afternoon, students and teachers sprang into action. Thankfully, frequent active shooter drills within the school had prepared them for this scenario.
Teachers locked rooms and students moved desks in front of doors to prevent the shooter, identified as 15-year-old Ethan Crumbley, from breaking in. Then, they did something incredibly smart: they armed themselves.
Grabbing whatever items were at hand, from scissors to calculators, the students prepared to defend themselves from Crumbley. But not all of the students stopped at arming themselves. One of them fought back.
Tate Myre, a 16-year-old football player, attempted to disarm Crumbley at the cost of his life. Myre's peers are calling him a hero for taking a stand and trying to protect them. Locals have already created a petition to rename the Wildcat football stadium in his honor.
This unfortunate event cost the lives of four innocent children and shattered a peaceful community. However, it also showed the world that schools in the U.S. are prepared to handle these horrific scenarios — and that America's next generation is willing to take a stand in the face of terror.
For more information on active shooter scenarios and how to survive one, click here.
~Here's to Your Survival!
Copyright 2021, ModernSurvival.org