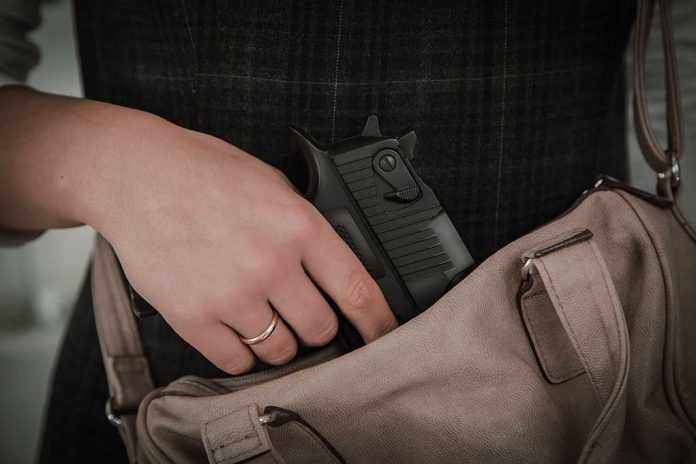 (ModernSurvival.org) – Second Amendment advocates have reason to celebrate. Another state has joined the growing list of those that do not require a government-issued permit to carry a concealed firearm.
ANOTHER CONSTITUTIONAL CARRY WIN! Ohio is now the 23rd state to sign permitless carry into law.

Thank you to @GovMikeDeWine and our pro-2A activists who made this victory possible.https://t.co/DJpdkRpwNI

— Gun Owners of America (@GunOwners) March 15, 2022
On Monday, March 14, Governor Mike DeWine of Ohio signed Senate Bill 215 into law. The bill removes the requirement to possess a permit to carry a concealed handgun, so long as the individual is legally allowed to own the firearm.
Previously, Ohioans were required to pass a background check and take eight hours of training before getting their permit.
The National Rifle Association (NRA) was quick to congratulate Gov. DeWine, saying, "Any right requiring a fee or government permission slip isn't much of a right at all."
According to the NRA, Ohio is now the 23rd state that doesn't require a permit for law-abiding citizens to concealed carry. The other states include:
Alabama
Alaska
Arizona
Arkansas
Idaho
Iowa
Kansas
Kentucky
Maine
Mississippi
Missouri
Montana
New Hampshire
North Dakota
Oklahoma
South Dakota
Tennessee
Texas
Utah
Vermont
West Virginia
Wyoming
With crime rates skyrocketing across the nation, perhaps criminals will think twice before committing a crime in Ohio. After all, they have no way of knowing which potential victim is actually armed and ready to defend themselves now.
For those considering purchasing a concealed carry firearm for themselves, we have a handy guide on what to consider when selecting the right gun here.
~Here's to Your Survival!
Copyright 2022, ModernSurvival.org