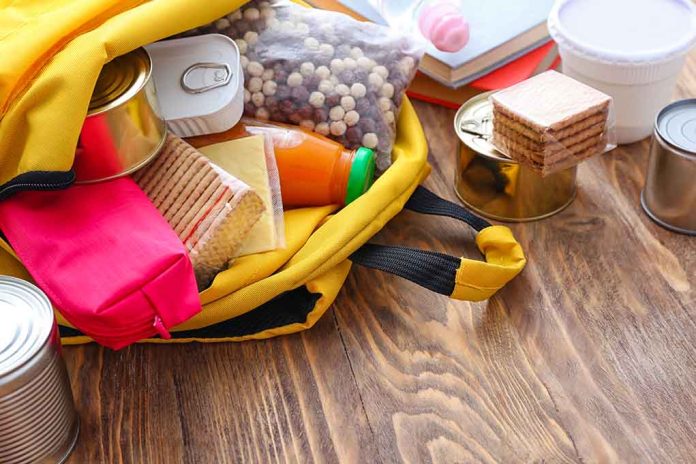 (ModernSurvival.org) – According to the U.S. Department of Agriculture (USDA), roughly 34 million people in America suffer from food insecurity — 9 million of which are children. Thankfully, many programs aim to reduce the number of people who face the possibility of going hungry. One such program specifically aimed at children is the BackPack program.
What is the BackPack Program?
The BackPack program offers families free groceries that are sent home with school-aged children for the weekends and school holidays. This program ensures children won't go hungry when outside of the classroom. BackPack programs are often hosted at and supported by schools but also receive backing from local food banks, private donors, religious organizations, and various other community programs. Volunteers collect the food, sort it into backpacks, then distribute it to children in need.
Some programs include perishable food, but many try to provide non-perishable and easily prepared meals. The groceries included in the backpacks will vary based on the donations the program receives, but often include:
Snacks such as granola bars and crackers
Canned soup, ramen noodles, or microwave macaroni and cheese
Fruit cups
Cereal, grits, or oatmeal
Drinks like milk or juice
The meals provided by this program are generally sent home with the student on Fridays for the upcoming weekend, or on the last day of school before a holiday break.
How to Participate in the BackPack Program
The first step toward participating in a local BackPack program is to reach out to your child's school. Children already enrolled in free or reduced breakfast or lunch programs often qualify for BackPack programs their school offers. Other organizations that offer BackPack programs of their own may not even have eligibility requirements.
If your child's school doesn't provide a BackPack program, there are other options to explore, such as a local food bank. These groups will explain what options they provide and can often help families find other appropriate community resources.
These programs exist to help families in need obtain healthy food and, in turn, reduce food insecurity in America. If you are struggling, don't hesitate to find a program near you capable of helping to ease the burden of providing nutritious food to your children.
Copyright 2023, ModernSurvival.org