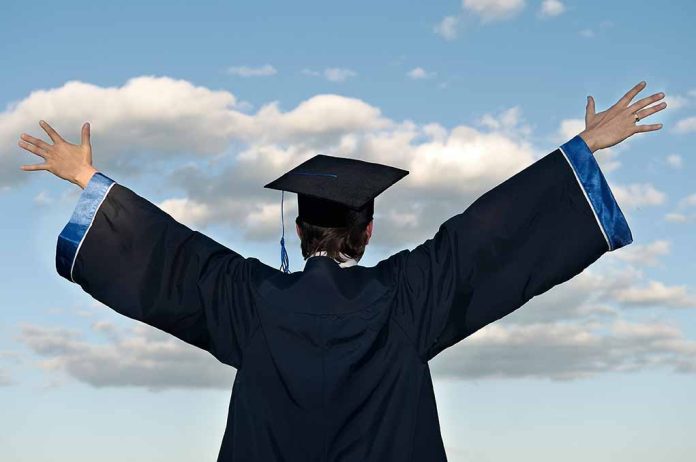 (ModernSurvival.org) – For many, a college education serves as a doorway to better professional employment and a good living. Unfortunately, the cost of attending college continues to rise, placing locks on the door to future success that many don't know how to open. For those with limited financial means, this seems like an insurmountable obstacle. Fortunately, there are a number of financial aid options that can break down this barrier.
While many know that loans are available for potential students, the thought of being buried beneath mountains of debt is enough to put many people off. This is why looking for grants is a far better option — they don't have to be paid back. But where can college grants be found?
Enter Grants.gov
Grants.gov provides potential students and their families a central location to search for grants best suited to their situation, needs, and goals. This search engine provides a way to find grant offers a student is most likely to qualify for and might otherwise miss.
A variety of grants are available on grants.gov, providing many options for students to consider throughout their college years. If the idea of funding higher education is concerning, this is a great place to start searching.
How to Find Grants for Higher Education on Grants.gov
Beginning at the grants.gov website homepage, click on the Search Grants tab.
Once the Search Grants page has loaded, a search box will appear in the upper right corner. Type in the keyword "education" here.
An extensive list of available grants related to education will appear.
From here, you can begin to look for applicable grants from institutions of higher learning suitable to your needs.
Due to the number of grants available, it may take some time to locate the right one for you and your qualifications. Still, grants.gov is a fantastic tool that provides a simplified way to search for specialized tuition grants that can help make paying for higher education through specialized educational institutions much easier.
Other Types of Student Grants Available From the Government
Even if you don't find a grant that fits your specific needs through Grants.gov, there are other options available that can ease the financial burden of higher education. Students in need of assistance have several opportunities to explore that they will likely qualify for.
Another site worth exploring for financial assistance is Studentaid.gov. If students meet these requirements, several conventional grants are available from the government for pursuing higher education. Forms of financial aid that students may qualify for include:
Pell Grants – Certain qualifications must be met based upon the student themselves and family contributions, but Pell grants are a great place to start for many students.
TEACH Grants – Teacher Education Assistance for College and Higher Education (TEACH) Grants require a student to maintain specific academic achievement levels, and they must enroll in a TEACH Grant eligible program.
Federal Supplemental Educational Opportunity Grants (FSEOG) – Institutions that participate in the FSEOG program offer these grants to students with the most significant financial needs.
Failing to qualify for a Pell grant or other forms of financial aid doesn't mean your pursuit of higher education is over. A search of Grants.gov could provide prospective education grants and a new path forward, cementing your way to a brighter future.
Copyright 2023, ModernSurvival.org