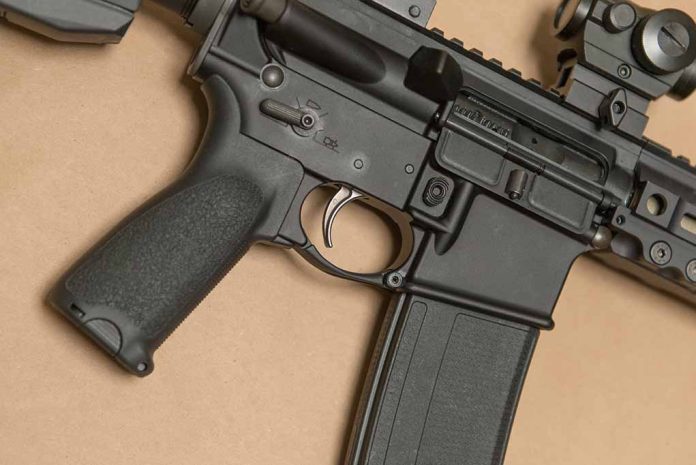 (ModernSurvival.org) – In early October, Brandon Brown won a Nascar race in Alabama. During an interview following his victory, the crowd was in an uproar, chanting, "**** Joe Biden." The interviewer, Kelli Stavast from NBC Sports, implied that the crowd was instead saying, "Let's go Brandon."
Since that moment, the term has become a rallying cry for many who oppose the President. "Let's go Brandon" has become so popular that even Republican Congressman Bill Posey (R-FL) ended a speech in the House of Representatives with it. Jeff Duncan (R-SC) was seen wearing a facemask sporting the saying.
Now, gun manufacturers are riding the wave by producing firearm parts using the catchphrase.
Palmetto State Armory, for example, is producing AR-15 "LETSGO-15" stripped lower receivers — complete with an image of Joe Biden and a NASCAR checkered flag. To complete the snub toward the President, the fire selector is labeled "' F@CK!' (Safe), 'JOE!' (Fire), 'BIDEN!' (Full-Auto)."
Similarly, Culper Precision has created an AR-15 magazine emblazoned with a googly-eyed Biden and the now famous saying. My Southern Tactical (MST) has also joined in on the trend, crafting their own magazine showcasing Biden in a mask pointing up to the "Let's go Brandon" embellishment.
Not everyone thinks the use of a phrase mocking the President on firearm components is funny. NBC News reached out to the Secret Service regarding the items mentioned above. They declined to comment.
~Here's to Your Survival!
Copyright 2021, ModernSurvival.org