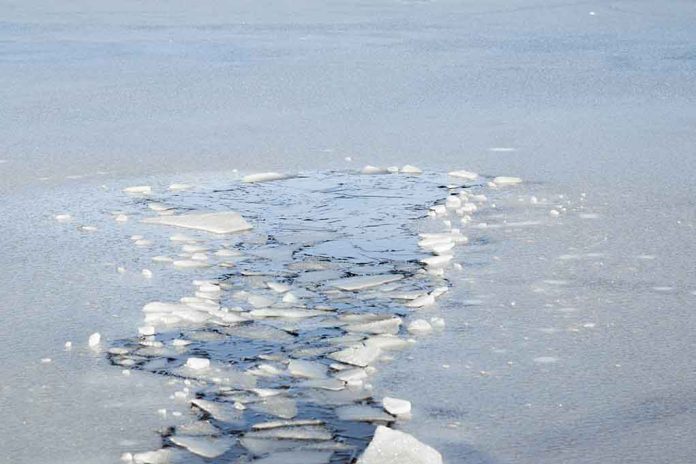 (ModernSurvival.org) – Winter is a magical time for children. From frolicking in the snow to sliding around on ice, kids love playing in the cold. For three young ones in Denver, however, their outdoor adventure nearly killed them Sunday afternoon. Thankfully, a good Samaritan quickly sprang into action.
Dusti Talavera saved three children who fell into a frozen pond in Colorado – The Washington Post https://t.co/Woj7zfkBg5

— Laura Ingraham (@IngrahamAngle) January 11, 2022
Twenty-three-year-old Dusti Talavera happened to be watching the children playing on a frozen pond outside her apartment when disaster struck. The ice gave way, sending the three youngsters into the freezing water.
Before she knew it, Talavera was in the icy water, too, pulling the children free. She managed to get two of the kids out before the ice beneath her broke as well. Unable to pull herself out of the 15-foot-deep pond, the would-be hero found herself treading water while trying to keep an unconscious little girl from drowning at the same time.
As the cold water threatened both of their lives, a second hero arrived — the girl's cousin. Using a rope the teenager threw into the pond, Talavera managed to get back onto the ice with the unconscious child in tow.
Responding sheriff deputies from Arapahoe County found the unconscious six-year-old on the ground, unresponsive and without a pulse. As one deputy began removing the soaking wet coat from the child, a second deputy began administering CPR.
The girl eventually began breathing on her own and was taken to a local hospital by a fire-rescue team. She is in severe condition, but is expected to live.
This terrifying ordeal shows that the actions of one person can save lives. It also shines a spotlight on how dangerous falling through ice really is. To see how to survive should this ever happen to you, check out our article here.
~Here's to Your Survival!
Copyright 2022, ModernSurvival.org