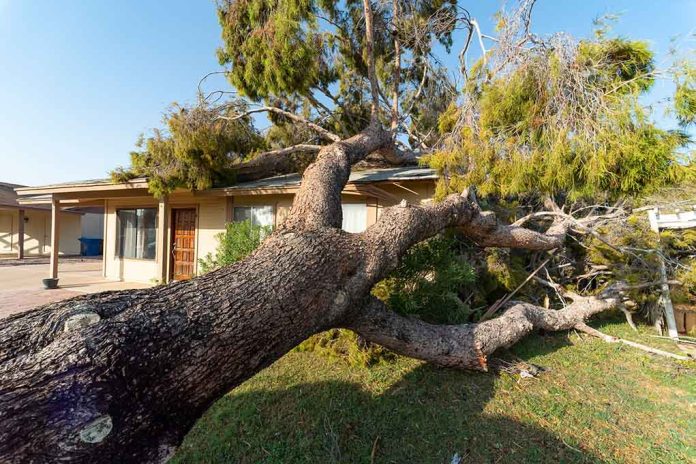 (ModernSurvival.org) – Mother Nature is on a rampage. In 2021, the nation was struck by everything from hurricanes to widespread droughts. So far in 2022, the strange weather is keeping pace. In Colorado, blizzard conditions recently left half the state under snow, while the other half tackled a raging inferno. Early Monday morning, a combination of heavy rainfall and high winds became a deadly concoction in Atlanta, Georgia.
5-year-old killed, mother rescued when fallen tree splits home in half https://t.co/0uWche2WMK pic.twitter.com/8jQ0Uv6N83

— New York Post (@nypost) January 3, 2022
At roughly 5 a.m. local time, a tree fell in DeKalb County, destroying a house and taking the life of a 5-year-old.
The little boy, identified by his family as Zach, died when the massive tree split his home in two, burying him in the rubble. As fire crews arrived at the scene, they heard Zach's mother screaming from inside the home.
Rescuers managed to pull the grieving mother from the wreckage virtually unharmed, but were unable to retrieve the boy due to the damage to the structure. Crews are working to secure the building, and prevent further collapse, so Zach's remains can be removed.
This horrific tragedy shines a light on one of the threats that come along with storms — and the winter months. Trees become damaged in high winds, and ice can accumulate on heavy branches, causing them to snap off. This is why trimming large branches from over the home and looking for damage after each storm is so important. It doesn't take an entire tree coming down to have disastrous results.
Before going gung-ho on cutting down trees, it's important to know how to do so safely. To see some tips and tricks on how to handle felling a dangerous leaning tree, take a look at our article here.
~Here's to Your Survival!
Copyright 2022, ModernSurvival.org