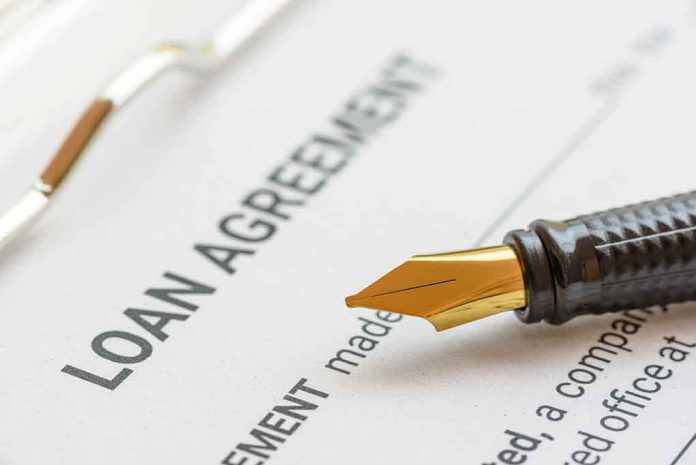 (ModernSurvival.org) – Federal loans offer borrowers many benefits, such as income-based payments, lower fixed interest rates, lower FICO® score requirements, and more affordability. In some cases, federal loans can even be forgiven altogether.
Here are federal loan options you may want to consider to get the loan you're looking for.
FHA Loans
The Federal Housing Administration (FHA) offers insured loans to purchase a home. These loans are suited for low to moderate-income families and offer to finance up to 96.5% of the home's value.
FHA loan eligibility hinges on the following factors:
Proof of employment and steady income
A 43% or less debt-to-income ratio
3.5% deposit for a minimum FICO® score of 580, or 10% for a FICO® score between 500 – 579
The home you choose must be your primary residence, not an investment property or second home
An FHA-approved appraiser must evaluate the house you choose
The FHA doesn't provide home loans directly. Instead, seek out FHA-approved financial institutions and follow their loan application process.
Section 504 Home Repair Program Loans
Section 504 Home Repair program loans, also known as Single-Family Housing Repair Loans & Grants, are available to low-income homeowners and the elderly. These loans serve to eliminate health and safety hazards from the residence or to improve, repair, and modernize the home.
To qualify for a Section 504 Home Repair program loan, you must:
Both own and occupy the home
Be unable to acquire affordable financing elsewhere
Live in a rural area
Meet the household income limit
Be 62 or above and unable to repay a repair to receive a grant
The maximum grant payout for this program is $10,000. The maximum loan is $40,000, or a combination of the two can pay $50,000. Visit the USDA Eligibility Locator website to determine if your home is in an eligible area.
Veterans Affairs (VA) Loans
VA direct and VA-backed loans are available to veterans, active service members, and their families. These loans help to purchase, upgrade, or repair homes.
To qualify for a VA loan, you must:
Have completed a 90-day term of active duty
Have a minimum of six years of service in the National Guard or Reserves
Have a minimum of 181 days of peacetime active service
Be the widow or widower of a service member who passed away on active duty or due to a service-related disability
Have not been dishonorably discharged from the military
Qualifying applicants can obtain a Certificate of Eligibility (COE) from the VA as proof of eligibility for potential lenders. The VA doesn't offer the loans directly but establishes qualified applicants and approves lenders.
Rural Housing Loan Plans
Rural Homeownership Direct Loan Program loans (USDA Guaranteed and USDA Direct) are offered to very low to moderate-income families searching for safe, secure homes in rural locations.
To qualify for these loans, applicants must:
Be a citizen or permanent resident of the United States.
The house must be your permanent residence
The home must be located in a qualifying rural area
Have very low (50% of the area median income (AMI)), low (50% – 80% of AMI), or moderate-income (below 115% of AMI)
Lack adequate housing
Be unable to obtain financing elsewhere but have a qualifying credit history.
Be able to afford the housing payments, including principal, interest, taxes, and insurance (PITI)
Have a 41% or less debt to income ratio
The home must be 2,000 feet or less without a swimming pool.
Use the USDA Eligibility Map to determine if your area qualifies for this program.
Farm Labor Housing Loans
Farm Labor Housing Loans are available to purchase, construct, repair, or upgrade homes for domestic farm laborers. This includes those who work in on-farm processing and aquaculture (fish and oyster farms).
To be eligible for this loan, an applicant must be a:
Farmer
Family farm corporation
Farmers Association
Indian tribe (grants too)
Public agency (grants too)
Nonprofit organization (grants too)
Farmworkers Association (grants too)
Applicants can use this loan for urban homes of a nearby labor farm.
Student Direct PLUS Loans
Student direct PLUS loans (Grad PLUS and Parent Plus) are available to professional or graduate students and the parents of undergraduates to pay for college or career school.
Parent PLUS Eligibility
To qualify for a Parent PLUS loan, you must:
Be the biological or adoptive parent of an undergraduate student
The dependant student must be in a certificate or degree program at least 50% of the time.
Have never defaulted on a federal student loan (neither the parent nor the student)
The student must maintain acceptable academic standing
Both the student and the parent must fill out a Free Application for Federal Student Aid (FAFSA)
Grad PLUS Eligibility
To qualify for a Grad PLUS loan, the applicant must:
Be a graduate or professional student
Be enrolled in a certificate or degree 50% of the time
Student Direct PLUS loans are unsubsidized, meaning you will begin to accrue interest once the loan has been dispersed.
7(a) Small Business Loans
7(a) Small Business Loans provide up to $5 million in financial aid to small businesses in America with special needs.
To qualify for this loan, you must:
Meet the Small Business Administration's (SBA) qualification for a small business
Operate for profit
Have reasonable invested equity
Use alternative financial resources (including personal assets) before seeking financial assistance.
Explain why you need the loan
Use the provided funding for a sound business plan
Not have any overdue payments on debts owed to the U.S. government
Additional information regarding the terms and conditions of a 7(a) Small Business Loan can be found on the SBA website.
SBA Microloans
SBA Microloans help small businesses, startups, and specific not-for-profit childcare centers get financial assistance. These loans are offered through community-based microlender intermediaries.
Each individual lender determines the eligibility for these loans. The average loan amount is $13,000 but can be up to $50,000.
What Do You Need?
The type of loan you may want to pursue will depend on your specific needs. From home financing and student assistance to help with starting a new business, options are available to give you a hand.
Copyright 2023, ModernSurvival.org