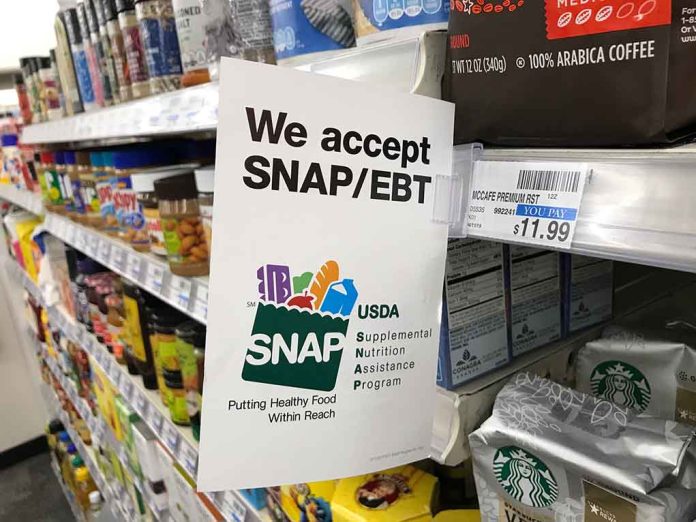 (ModernSurvival.org) – The federally funded Supplemental Nutrition Assistance Program (SNAP) helps low-income families and individuals acquire healthy, nutritious food. The program is designed to aid recipients by supplementing their monthly grocery requirements while they work toward self-sufficiency. This, in turn, keeps them from seeking out cheaper and potentially unhealthy options.
Frequently Asked Questions About SNAP
1. What are the Required Qualifications for SNAP?
Despite the fact that SNAP is a federally funded program, the application process is handled by each state individually. The state examines a family's income and bills to determine their eligibility as well as their monthly benefit total. Those over 60 may be allowed higher income levels or more resources and still maintain eligibility.
2. How Much Does SNAP Pay Out in Benefits on Average?
According to the USDA Food and Nutrition Service department, SNAP beneficiaries receive an average of $239 per month. The actual amount any individual or family receives depends on a variety of factors, such as:
Income
Location
Number of family members
Childcare
Standard household bills like rent, mortgage, and utilities
Money held in bank accounts
3. How Fast Can You Get SNAP?
In most states, the SNAP application can be submitted online. After the application is submitted to the state, an interview is scheduled to determine your eligibility and how much your benefits will be. Generally, the process from application to receiving benefits takes roughly 30 days from start to finish.
Families with very little income may be eligible for an expedited process. These families may also l receive benefits retroactively back to their application date rather than the date of their approval into the program.
4. How Do You Use SNAP Benefits?
Once you're approved, a SNAP card will be distributed to you. After receiving the card, you must select a PIN number. The government will then electronically transfer funds to your account each month that may be used to purchase food from approved locations. It is crucial to verify a selected grocery store accepts SNAP before shopping, though, as not all of them do. The SNAP benefits card operates like any credit card, allowing you to swipe discreetly when buying groceries.
5. What Can SNAP Benefits Buy?
SNAP benefits can be used to purchase any food meant for human consumption except for prepared meals, such as hot items served at an in-store deli. Additionally, SNAP benefits cannot be used to purchase alcohol (including cooking wine) or pet food. Since the funds provided are for food only, paper products, toiletries, and cleaning products are also prohibited.
6. How Long Do SNAP Benefits Last?
After qualifying for SNAP benefits, a family or individual will receive the same amount of funding each month for six months. A state representative will contact you near the end of this period to reassess your eligibility. If you continue to qualify, the benefits will continue to be paid into your account. However, the amount of the benefits may change based on your income and other criteria.
7. Are the Groceries Purchased With SNAP Benefits Taxed?
The taxes normally levied on groceries do not change when purchased with SNAP benefits. However, some states don't tax certain grocery items, and that doesn't change with SNAP purchases either. If you live in one of these states, your SNAP benefits will have more purchasing power.
8. Are College Students Eligible for SNAP Benefits?
College students may qualify for SNAP benefits if they meet the minimum enrollment hours to be considered part-time students in addition to certain financial requirements. For example, the student may have to work a minimum of 20 hours per week (if they don't have children) or be enrolled in a work-study program.
For more information on the SNAP benefits program and how to apply in your state, visit Benefits.gov.
Copyright 2023, ModernSurvival.org