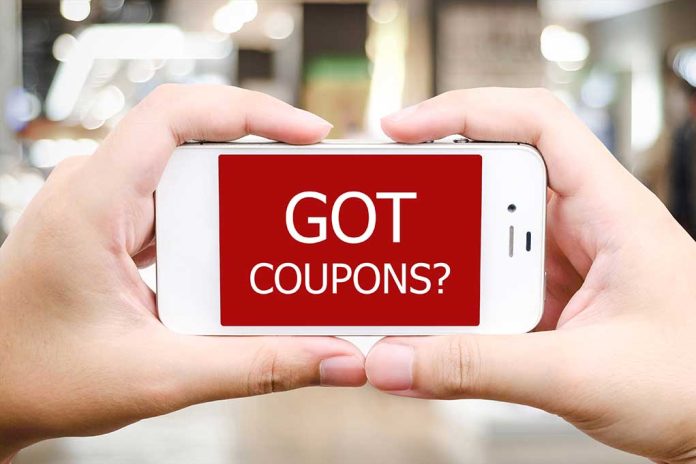 (ModernSurvival.org) – Couponing has been around since the late 1800s, helping people stretch their hard-earned dollars. The first widespread distribution of coupons began in 1887 when Coca-Cola started giving away tickets for free bottles of soda. During the Great Depression of the 1930s, food coupons helped countless families survive. As the years have passed by, coupons have evolved.
People used to spend hours clipping coupons from newspapers and magazines to save money during their next trip to the store. Thanks to advancements in technology, this is no longer necessary. Many different apps are available that perform the same function as their old paper counterparts — many of which apply to far more than food. So which ones are worth checking out?
Are Coupon Apps Better Than Traditional Paper Coupons?
Traditional paper coupons are still around and every bit as useful as they ever were. Their digital counterparts, however, come with extra benefits that potentially make them a better option. Here are a few ways the best coupon apps help you save money:
Cash back rewards for every dollar spent
Automatic coupon codes
Rewards for connecting debit or credit cards
How do Coupon Apps Work?
Each coupon app tends to work differently. Many brick-and-mortar stores (such as Target and many grocery chains) offer store-specific apps that allow you to add coupons before checkout. You'll enter your phone number or scan your app, and savings will apply at the register.
Others require you to scan receipts, while others automatically apply codes when you shop online with specific retailers. Some apps even provide cash back or gift card rewards based on the user's spending.
Which Apps Are Worth Using?
Coupon apps can net you some significant savings, but not all of them are reliable. To help you find the best app for your needs, here are some of the best ones out there.
1. Dosh
Dosh offers automatic savings on purchases made at over 10,000 approved businesses with a linked credit card — all without having to scan receipts or use coupons. Once you've set up Dosh, you can forget about it and let the savings roll in. The program works with both online purchases and in-person spending. Once you've accrued $15 worth of savings in your Dosh account, you can transfer that balance to your bank or PayPal.
In addition to the standard savings, Dosh also offers 40% off on hotel stays through approved partners. The downside is linking your credit or debit card to the app, which could raise some privacy concerns. Dosh's website lists many security measures the company takes to protect your information, such as not storing banking or card information and 256-bit (bank-level) encryption.
Dosh is available for both Android and iOS.
2. Ibotta
Ibotta is another coupon app that can help you save when shopping with select retailers. In addition to cash-back benefits, Ibotta offers great discounts at thousands of stores such as Walmart, BestBuy, The Home Depot, and even eBay. To top that off, the company offers a welcome bonus just for downloading the app.
Ibotta is especially good for those who use pickup and delivery for groceries, as the app offers special savings for these shopping methods.
The downside to this app is that you must manually select offers in your account before shopping. Also, some offers require you to scan receipts to claim them.
Ibotta is available for both Android and iOS.
3. Fetch
The Fetch rewards app saves you time by eliminating the need to select specific rebates before shopping. This program works by having you scan your receipts from thousands of stores to earn points, which can be redeemed for gift cards for retailers like Target, Amazon, and Starbucks.
Every 1000 points you accumulate through the app earns you $1 in rewards.
Fetch is available on Android and iOS.
4. Rakuten
Rakuten offers a mobile app and browser extension, helping users get cash-back rewards for everyday purchases. When shopping online with the Rakuten extension activated, the program searches out and applies coupons automatically, giving you great deals without having to hunt them down yourself. Participating stores include Target, Kohl's, JCPenny, Walgreens, and many more.
The rewards are nice because they're deposited directly into your PayPal account or sent to you via a check every three months. Unlike other apps that offer gift cards, this gives you actual cash you can spend however you wish.
Rakuten is available on Android and iOS.
Coupon apps can save you a considerable amount of money, making them worth checking out even when times are good. During economic turmoil, however, these apps could make a significant difference for your family.
Copyright 2023, ModernSurvival.org