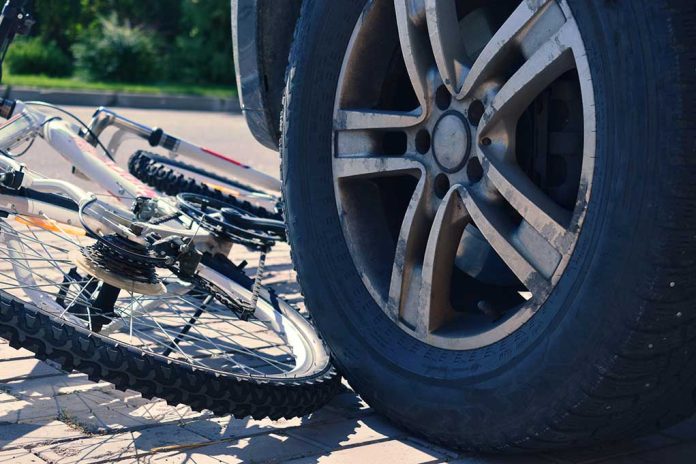 (ModernSurvival.org) – In the concrete jungle, the need to be ever aware of one's surroundings is critical. One wrong step, or in this case riding a bike near the wrong vehicle, can be fatal.
Warren Yoshio Watanabe Wiki – Warren Yoshio Watanabe Biography

Warren Yoshio Watanabe was riding on the sidewalk when a 77-year-old woman exiting the parking lot of the Warren's Family restaurant in Roy struck him on Sept. #WarrenYoshioWatanabehttps://t.co/clpqsT4T2o pic.twitter.com/vl7JQOZb2h

— WikiBious (@WikiBious) October 20, 2021
On September 20, 62-year-old Warren Yoshio Watanabe was riding his bicycle in Roy, Utah when the unthinkable happened. A car hit him. While that may not seem "unthinkable," the clueless driver of the vehicle then proceeded to run Watanabe over again — two more times.
The 72-year-old woman driving the vehicle that struck Watanabe was unaware she'd hit him until she had driven over the man a total of three times. After the initial impact, she backed the car over him, then drove over him again and repeated the process. When the driver finally noticed she had hit the bicyclist, she called 9-1-1.
Emergency responders were at the scene within three minutes and rushed Watanabe to the emergency room. He was in critical condition when he arrived at the hospital, sustaining 14 broken ribs along with severe damage to his liver and kidneys. The cyclist passed away five days later due to his injuries.
Authorities claim there is no indication the event was anything other than an accident. According to a report from the New York Times, authorities are now debating whether charges should be filed against the driver.
Sadly, this unfortunate series of events is a reminder that one doesn't have to be in a large-scale disaster or lost in the woods to face a life or death situation. Danger comes in many forms, regardless of where a person may be.
To see how anyone can improve their chances of seeing danger coming in any environment before it's too late, check out our article here.
~Here's to Your Survival!
Copyright 2021, ModernSurvival.org