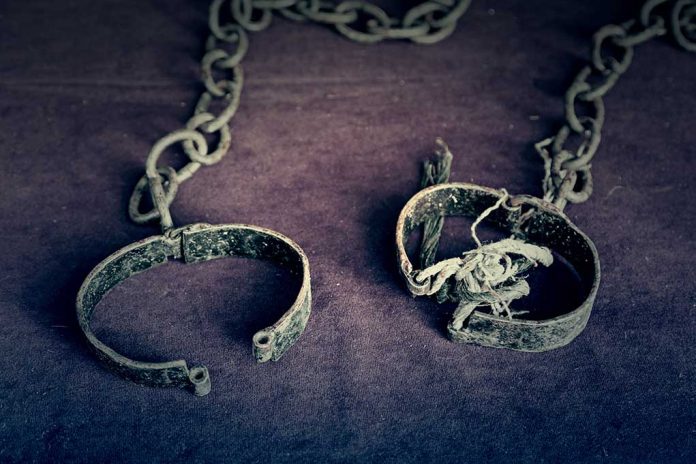 (ModernSurvival.org) – There seems to be no end to the depths of insanity some people can reach. Police in Indiana found this out firsthand Tuesday night when a woman led them to a real-life house of horrors.
Police: A killing and suspected kidnapping in Evansville reportedly began with a meeting on a dating app and ended with a police-involved shooting. https://t.co/ov22nTV2PO

— Courier & Press (@courierpress) October 21, 2021
It all began when a hysterical woman ran to a state trooper, claiming that she had found a dead body while helping a friend clean her house for an upcoming inspection by the landlord. Law enforcement responded to the home in Evansville, Indiana, where they were greeted by 36-year-old Heidi Kathleen Carter.
After Carter informed the police that more people were still inside the home, they began giving orders for the remaining individuals to come outside. An unidentified man exited the building and was released. A second man, Carey Hammond, followed, rushing at the police with an object in his hands, at which point multiple officers opened fire and killed him.
Inside the home, a gruesome scene was waiting.
Law enforcement discovered two victims within the home, a male and a female. Both were shackled and beaten; however, the man was "deceased and beyond help" by the time police arrived. Authorities claim that Hammond, the male suspect shot by police, had strangled him to death.
Allegedly, Hammond had also raped the shackled woman repeatedly. According to Carter, she met the couple via a dating app and engaged in sexual activity with them. Hammond returned home during the sexual encounter and attacked the victims with a baseball bat in a fit of rage. Carter reportedly helped Hammond restrain them, then the two engaged in abusing both victims.
Carter faces charges including abuse of a corpse and criminal confinement. It is currently unknown if she will also face murder charges. She claims she went along with Hammond out of fear he would hurt her as well.
Unfortunately, the fate that befell the as yet unnamed victims is one that many others have experienced. To avoid becoming a victim it's essential to prepare for survival — which sometimes means escaping restraints. Take a look at our article on how to escape duct tape bindings.
~Here's to Your Survival!
Copyright 2021, ModernSurvival.org