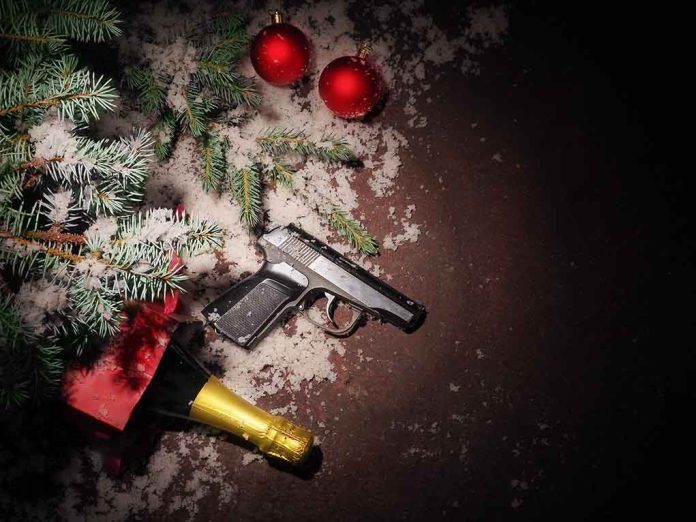 (ModernSurvival.org) – As crime continues to skyrocket across America, it seems that nowhere is safe. From career criminals killing police and driving through crowds to the new trend of smash-and-grab robberies, Americans have a growing problem on their hands. If all of that wasn't enough, lawbreakers recently became even more brazen by attacking a holiday party.
Armed robbers bust into Los Angeles holiday house party, target guests…The robbery marks the latest in a recent wave of property crimes in upscale Los Angeles neighborhoods https://t.co/1NWRBRhQVy

— judy morris (@judymorris3) December 6, 2021
Friday night, a pair of armed robbers broke into a Los Angeles (LA) home where a holiday gathering was taking place. The duo crashed the party, holding the guests hostage at gunpoint and forcing them to relinquish their valuables.
The robbers stole jewelry, phones, and an Apple watch before fleeing the scene. The homeowner, who has remained anonymous, said he has tried to contact the Los Angeles Police Department (LAPD) on numerous occasions since the event, but to no avail. He even has video footage of the assailants, but law enforcement doesn't seem to care.
As of Monday, no arrests have been made in the case. According to authorities, there have been over 100 of these types of robberies in LA over the past couple of months.
With the crime wave increasing in size and scope, it's more important than ever to prepare oneself, and one's home, against lawbreakers. As the case above points out, one cannot always rely on the police to save the day.
To see how anyone can prepare themselves and their families to face a home invasion, take a look at our article on the subject here.
~Here's to Your Survival!
Copyright 2021, ModernSurvival.org