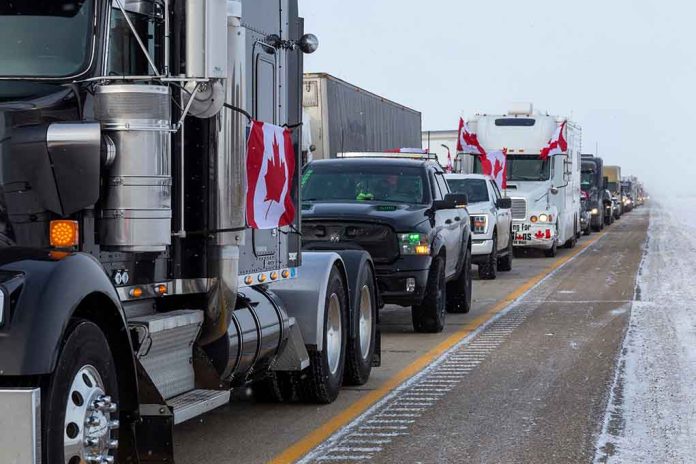 (ModernSurvival.org) – The Freedom Convoy, consisting of truck drivers taking a stand against COVID vaccine mandates, is still going strong after roughly a month. What started off as a protest against draconian coronavirus mandates in Canada is now spreading across the globe.
FRANCE – over 1500 vehicles have arrived in Lille ready to start the trip to Brussels. Convoys from all over Europe are getting ready to converge.

It's time 🔥#ConvoyFrance #TruckersForFreedom2022 #FreedomConvoy pic.twitter.com/rzpGSu2vFz

— Bernie's Tweets (@BernieSpofforth) February 14, 2022
Around the world, people are standing up to gross government overreach. Truck drivers began the large-scale protest in response to vaccine mandates, which required truckers to get vaccinated in order to cross the Canadian border. However, it has now become a global movement.
In Europe, Freedom Convoys are heading toward Brussels, the capital of the European Union. This comes despite a ban on such protests by authorities there. Watching the convoys rise up in Europe is wild, but it doesn't end there.
NOW – Convoy of trucks and vehicles arrives in #Jerusalem, Israel's capital, to protest Covid restrictions.pic.twitter.com/ExJNkfgBOk

— Disclose.tv (@disclosetv) February 14, 2022
Reports claim similar movements are springing up in Israel, where strict coronavirus measures are enforced. Outside Parliament, protesters gathered to honk horns, beat drums, and make their voices heard.
Even America is seeing Freedom Convoys starting to form. Currently, at least three different groups are planning to converge on Washington to protest COVID mandates the Biden administration put in place.
Across the world, Canadian flags are flying in conjunction with the banners of other nations as the people rise up to take their freedom back. Considering the fragile state of the global supply chain, it's likely these demonstrations could lead to change in how these governments implement their coronavirus responses. If they don't, economies everywhere may grind to a halt as truckers refuse to move goods.
~Here's to Your Survival!
Copyright 2022, ModernSurvival.org