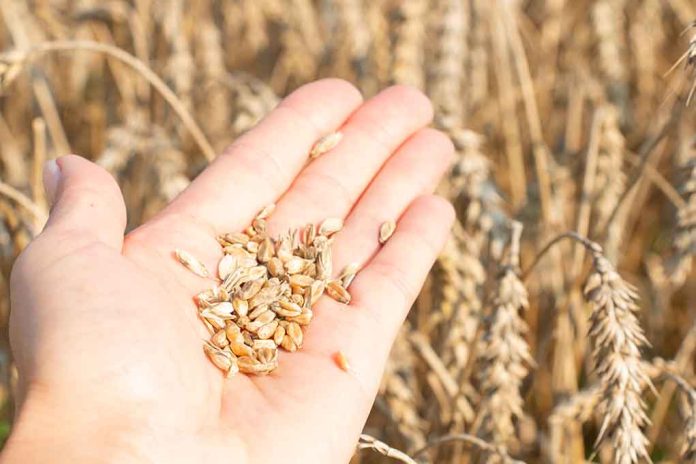 (ModernSurvival.org) – The Russian invasion of Ukraine is in full swing, with no sign of letting up anytime soon. While the fighting rages overseas, the repercussions of the conflict are already spreading across the globe, manifesting most recently in soaring gas prices as countries all over the globe issue bans on Russian-exported fuel and other goods.
According to one expert, the world's woes have only just begun.
Wheat jumps to an all-time high, exceeding levels during the global food crisis in 2008, as Russia's intensifying war in Ukraine cuts off one of the world's top breadbaskets https://t.co/smaW6a8p1x

— Bloomberg (@business) March 8, 2022
Svein Tore Holsether, leader of Yara International, recently told BBC News that the situation in Ukraine is leading to a global food crisis. Holsether points out that much of the grain that sustains the world comes from the two battling countries. Unfortunately, in addition to fuel, the war has forced food exports to a grinding halt.
In addition, Russia is a major producer of fertilizer — and the Russian government is working to end the export of the invaluable product. This means that, as the global population is forced to get by with a smaller amount of food than it's used to, the ability to begin producing more is also being crippled.
While many may disregard Holsether's warning, it appears his prediction is already coming true. According to a report from Bloomberg, the price of wheat is already skyrocketing. The war in Ukraine is cutting off one-quarter of the world's grain, plus the majority of its sunflower oil.
With the global supply chain already bleeding out from the coronavirus pandemic, the war in Ukraine is dealing it another massive blow. Everyone hopes the situation will improve and stabilize. However, as the problems continue to pile on, it isn't hard to imagine a black swan event just around the corner.
~Here's to Your Survival!
Copyright 2022, ModernSurvival.org